12VDC Dedicated Electric Hook Lock Fail Safe for Sliding Rail Door and Window
Features:
Installed on hollow metal doors, plastic-steel doors and other sliding rail type doors and windows.

The standard appearance of the structure apply to various brand hollow metal and plastic-steel doors and windows.

The fixed installation parts can be installed on the frame, cylindrical assemblies embeds in the frame, easy to install.

There are anticorrosion coating protection for Latch bolt components and Lock bolt

The Fail safe feature design, meet with the demand of emergency exit

The special usage design, during the product life cycle, it don't need to do preventive maintenance and lubricant, etc
YEH-210 is a dedicated electric hook lock suitable for hollow metal and plastic-steel doors and windows.
Electric hook lock suitable is to install in the temperature circumstance between -40℃~+50℃ / -40℉~122℉,the retention force is larger than 300kg,is a type of dedicated electric hook lock effectively apply to Left and right push-pull sliding rail doors and windows.
Specifications: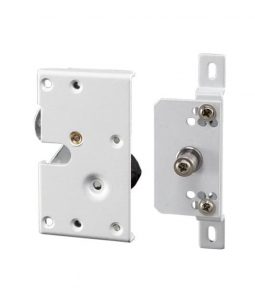 Dimension: 79Lx45.5Wx34.3H(mm) / 3.11″x1.79″x1.35″
Door catch: 91Lx30Wx25.85H(mm) / 3.58″x1.18″x0.98″
Voltage: 12VDC
Current: 100mA
Holding Force: 300kg / 661lb
Operating Temp: -40℃~+50℃ / -40℉~122℉
Operating Humidity: >95%
Weight: 0.28Kg / 0.62lb
Package:
More latest product information of HOBK, please follow our official Twitter Account: @HOBK89016273.