2-Buttons RF Wireless Gate Door Opener Remote Control Transmitter 433MHz
Application
Garage door, entrance guard, the open and close of the car truck, the modifications of wireless video and the doorbell.
Light / lamp wireless remote control, the wireless remote control of the home appliances switch, windows, electric control lock, etc.
Specifications: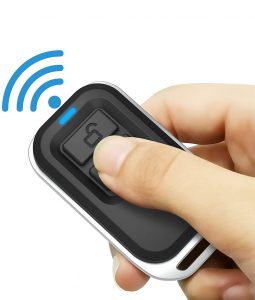 Working Voltage: DC12V (Built-in CR2016 battery)
Operating Current: 8mA
Powered By: 2pcs CR2016 batteries
Transmitting Frequency: 433MHZ
Modulation: ASK (Stable, less interference)
Keys: 2
Emission Distance: Max. 50m (Open area)
Encoding Type: Fixed code
Color: Black
Enclosure Material: Plastic
Remarks:
The pairing method of the transmitter is determined by the remote control, so please refer to the user manual of the remote control.
Only compatible with the RF remote controls of UHPPOTE.
If you do not know how to operate this device, please contact for support before payment.
Package Included:
1 x Transmitter
1 x English Manual
More latest product information of HOBK, please follow our official Twitter Account: @HOBK89016273.