HBK-R01+T01 433MHz 12VDC Remote Control with DC Power Connector Specially Applied to Access Control Lock
Features:
The main feature of this kit is that it allows you to open the door simply by pressing the wireless RF remote instead of moving to the door physically when someone visits. The remote communicates with the receiver, which can program up to 40 remotes, and it has a range of 164 feet.
0/5/10 seconds autolock time delay adjustable, default is 5 seconds.
Working Mode: Momentary/Toggle
Frequency: 433MHz; DC Encoding Type: Learning code
Attention: Specialized for the access control lock which cannot be applied in other fields.
Receiver: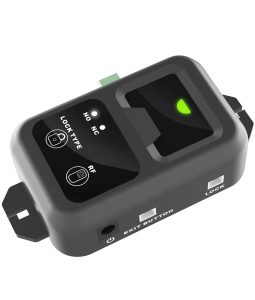 Voltage: 12VDC
Frequency: 433MHz
RF channels: One
DC Encoding Type: Learning code
No. of Remotes that are able to connect to one Receiver: Up to 40
Firing Range: 164 feet (open) in theory, 15%-30% in reality
Adjustable Locking Delay: 0/5/10sec
Built-in DC power connector, wiring easy
Working Mode: Momentary / Toggle
Transmitter: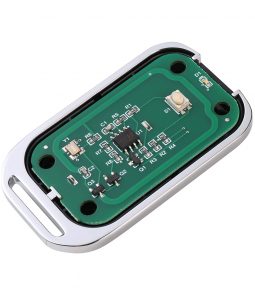 Working voltage: 6VDC (Built-in button battery)
Operating Current: 8ma
Powered by: 2pcs CR2016/3V batteries (Included)
Service Life of the Battery: 50000 cycles tested
Transmitting Frequency: 433MHZ
Key: 1 Key
Emission Distance: 20-50m / 65-160ft (Open area)
EncodingType: Fixed code
Case material: PC+ABS
12V Power Adapter:
Type: 12V/1A Power Supply Wall Charger
Input: AC100V-240V 50/60Hz
Max Output: DC12V / 1.2A (1200mA)
AC Cord length: 4 feet / 1.2 meter
Wire Type: 22AWG
Output transformer adapter : 5.5 X 2.1 mm (Inside diameter 2.1mm, Outside diameter 5.5mm)
Net weight: 66g / 2.3oz
Certificate: FCC
Package:
1 x Receiver
2 x Transmitter
2 x JST 2 Pin Plug
1 x Power Adapter
1 x English Manual
Attention:
This remote is specialized for the access control system and unable to be applied to other fields.