Safe Low Noise Intelligent Motor Electric Lock W/ Signal Self-Closing Lockable
Features:
The length of the lock tongue>20mm,meet GA/T73-94 5.1.6B standard
Can be compatible with building system of entrance guard system, etc
Automatically detects the door status, automatic processing to open close the door
Can be installed on the left door, right door, interior door, outside the door and other doors
Mistakenly lock or unlock after no entry, the door automatically locked in around 9 seconds
Voltage DC12V-DC18V, start current <350mA, standby current <25mA, unlock time 1S
Long life (more than 500,000), on / off, high sensitivity about ON/OFF, low power consumption
Intelligent motor electric locks (motor lock) .Adopts Stainless steel material.With the feature of signal output.with Auto-closing lockable, door status auto-detect feature and automatically corrects misuse, high sensitivity sensor, low noise lock, safe and reliable.
Specifications: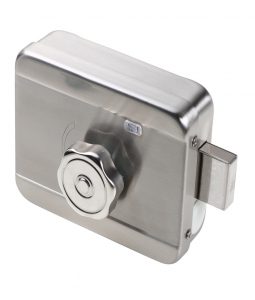 Lock Size: 130Lx100Wx61.25D(mm) / 5.12Lx3.94Wx2.41D(in)
Fail Safe: Locked when energized
Power supply: DC12V±10%
Starting current: 350mA
Working current: 25mA
Temperature: -20℃~+50℃ / -4℉~122℉
Lock tongue length: 20mm / 0.79in
Material: stainless steel, surface drawing
Scope of application: widely used in intelligent community, factory, warehouse, base station, and building intercom, intelligent access control system supporting the use of
Weight: 1.46Kg / 3.22lb
Note:
The electric lock is not fire locks, absolutely not allowed to be installed on the fire escape door, or peril.
Installation of electric lock is not allowed to fire welding, as a result of failure caused by fire welding power locks, the Company should be no warranty.
Package:
1 x Intelligent electric lock
More latest product information of HOBK, please follow our official Twitter Account: @HOBK89016273.