Safety Double Photoelectric Beam Sensor Detector for Auto-Door Control System
Features:
With Pull in & out type socket for easy wiring.
Adopt microcomputer control technology, high integration with high stability.
International optical lens design with good focus quality, controlled angle is rational, easy to be installed.
Far transmit distance with strong, anti-interference ability.
Adopting receiving filter, decoding, amplification system of German technology. Effective solution to anti-interference of natural daylight.
Emission electric eye adopts low-power consumption design with far transmit distance.
Emission contact and receive contact output separately with shielding line.
When the signal light be blocked, NO or NC contact can be flexibly chosen.
With AC/DC12-30V power input.
Warning alarm will be sent when eye sensor has problems.
Specifications: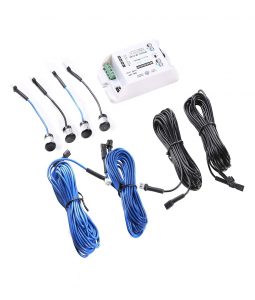 Power supply: AC/DC12-30V
Static Power: 12-18mA
Action Current: 12-58mA
The maximum transmit distance: 10m / 32.8ft
NO or NC contact: Done by NO/NC contact selection
Beam: Single beam or double beam
Working Temperature: -42℃~45℃ / -43.6℉~113℉
Working Humidity: 10-90%RH
Size of Controller: 105.5Lx53.4Wx28.5H(mm) / 4.15Lx2.1Wx1.12H(in)
Size of magic eye head: 19Lx13D(mm) / 0.75Lx0.51D(in)
Package:
More latest product information of HOBK, please follow our official Twitter Account: @HOBK89016273.