Plastic Surface Emergency Electromagnetic Door Holder with Release Button – Flush Wall Mount
Features:
This is a door holder with fireproof plastic cover. Anti-Residual Magnetism Design.Automatically close the smoke proof door when fire happens. It Combines build-out release button for testing and build-in MOV to reverse current protection.

Collinear Load Test 50kg / 110pounds
MOV Provides Reverse Current Protection
Low Power, Environmental Protection
Anti-Residual Magnetism Design.
Professional Design, Dual Insulate Housing
Automatically close the smoke proof door when fire happens
Emergency release button/test button
Reliable Fail-Safe mechanism
Durable and silence operation
CE Certificate
Specifications: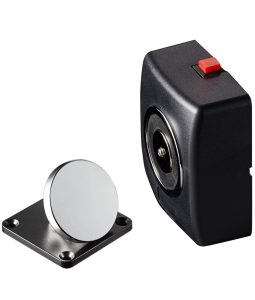 Dimensions: L75xW35xH90(mm) / 3″x1.4″x3.5″
Holding Force: 50kg(110Lbs)
Voltage: DC24V+10%
Current Draw: 24V/70mA
Suitable for: All kinds of Single & Double Smokeproof Door
Surface Temp: less than +20℃ / 68℉
Operating Temp: -10℃~+55℃(14℉-131℉), Suitable Humidity: 0~90% (relative humidity)
Finishes for Shell: High Temperature Paint and Environmental Protection Zinc
Finishes for Armature: Zinc
Cover material: ABS
Weight: 1.05kg / 2.3lb
Installation:
Package:
More latest product information of HOBK, please follow our official Twitter Account: @HOBK89016273.