Class 2 Control Transformer Foot Mount 40VA Primary Voltage 120, 208, 240V Secondary 24V
Features:
SAFE USE: This 24 volt transformer offers reliable performance

Primary Voltage: 120VAC/208VAC/240VAC

Mounting Configuration: 2 Foot

Universal Replacement for Most Foot Mounted Furnace Transformers

Class 2 rated, inherently limited transformer's easily mount for use on low voltage control circuits.
Designed for over 60,000 hours continuous use under normal load conditions.
Specifications: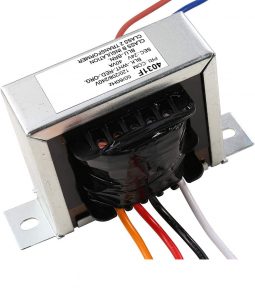 Mounting Configuration: 2 Foot
Primary Voltage: 120/208/240VAC
Secondary Voltage: 24VAC
VA Rating: 40VA
Over Current Protection: Inherently Limited
Operating Temperature: -40 to 140° F
MTBF: 100,000 Hours @ 77°F
PRI.: 18AWG Length 204mm in color "black","white","red","orange" (The black wire connects to the live wire.)
SED: 18AWG length 204mm in color "red" & "green"
Product Weight: 710g
Package:
1 x Control Transformer (Wire nuts not included)
More latest product information of HOBK, please follow our official Twitter Account: @HOBK89016273.