Wired Probe Liquid Overflow Induction Electrode Water Leak Detector Switch Singal Sensor for Alarm System (Pack of 5)
Features:
Case Material: ABS; Detecting Leads Material: Stainless steel

Controller and switch not included, should buy separate

Suit for: Water tower, return pipe, water heater, computer facilities, machine platform,electrical control room, central air conditioning studio, factory, warehouse, file reference room,office, basement, laboratory, fish bowl, water tank, pool, water dispenser, air conditioner

Once water get in touch with the stainless steel probe, The circuit will be switched on and convey a signal to the alarm device.

It can be connected to water leakage alarm controller, short message alarm, Telephone dialing alarm, etc. The stainless steel is anticorrosion and it can be used in outdoor.

The liquid induction electrode detector can be used for the water immersion detection of the ground or the limited water level space.
Specifications: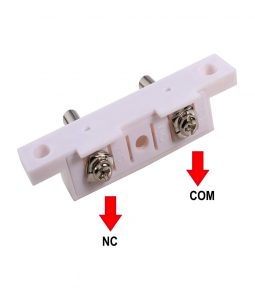 Case Material: ABS

Detecting Leads: Stainless steel

Contact: NC/COM

Size of the product: approx. 65mmx35mm / 2.56″x1.38″

Size of the stainless steel probe: approx. 15mmx13mm / 0.59″x0.51″

Weight: approx. 20g / 0.04lb
Attention:
Controller and switch are not included, should buy separately.
Package:
More latest product information of HOBK, please follow our official Twitter Account: @HOBK89016273.