Auto-Door Switch Sensor for Washroom Restroom of Disabled Handicapped Person
Using Process:
Dedicated for washroom of disabled-person, large-paneldesigned with voice prompts
Normal standby,the exterior panel displays "Vacant"
Press the open button of exterior panel, door open with voice prompts. Internal panel displays unlocket, warning to press the lock button. After entering the washroom, press the lock button of inner panel,door close with voice prompt. At the time, door can not be open until the user press open button of inner panel. And door close in 5s/15s/15minutes according to the setting
When user have trouble and can not operate the call panel, start the EMERGENCY function, door can be open forcibly by outsider
Start the LOCK function to lock the system, when the staff after work so that the door is in a safety closure state, to stop the use of external
Functions:
Emergency: When user have trouble and can not operate the call panel, start EMERGENCY function, door open forcibly by outsider
Automatic: Start AUTO function, call panel work normally, people can get out and in
Lock: Inner and exterior panel lose effectiveness, control system and door are locked. Can not be used normally
Specifications: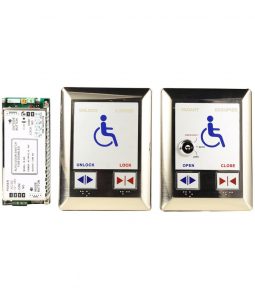 Operating voltage: AC/DC 12-36V
Size of switch controller: 142Lx58Wx40H(mm) / 5.59Lx2.28Wx1.57H(in)
Size of panel: 160Lx120Wx15H(mm) / 6.3Lx4.72Wx0.59H(in)
Package:
1 x Main controller
1 x Inner panel
1 x Exterrior panel
1 x 6 Pin line
1 x 7 Pin line
2 x Keys
More latest product information of HOBK, please follow our official Twitter Account: @HOBK89016273.