Auto Door Four Channel Remote Control Exchanger 1 Receiver & 2 Transmitter
Features:
Delicate shell design, easy-to-fixed, compact and small size.

Built-in surge absorber to prevent the return spark of electric lock.

Remote transmitter with 4 keys to carry out the 4 operations of auto-door.

Using remote controller to switch funcition, validity action confirms by voice indicator.

All induction gated signal unified into the Extender which outputs the signal to auto-door runs automatically.

With four-group of relay contact signal output, available to be connect with four different access equipments.
Adopt uniformity frequency with high stability of wireless signal receiving and sending.
Operation frequency: 433MHz, stability better than 10-5.
Remote transmitter adopts low-power consumption design with far transmit distance. Long-service life of battery.
L-type or M-type available for chosen for output state.
Adopt the way of coding self-learn, convenient to add the remote transmitter.
Specifications: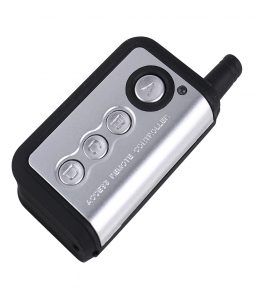 Wireless Receiver:
Power Supply: AC/DC 12-36V
Static Current: 15mA
Action Current: 80mA
Relay Contact Capacity: 20A / 14VDC
Contact Actuation: 2S
Remote Transmitter:
Power Supply: 12V/23A
Life of battery: more than 20000 times
Transmit distance: More than 25M/82ft
Operation temperature: -42℃~45℃ / -43.6℉~113℉
Operation humidity: 10~90%RH
Dimension: 123(L)x50(W)x32(H) mm / 4.8(L)x2.0(W)x1.3(H) inch
Package weight: 160g / 0.35lb
Functions:
This product is with the function of coding self-learn. Make sure the code of remote transmitter has been learned into the receiver before using. (16 kinds of codes can be learned)
Operation way: Press the learn button, indicator turns green. Press any key of the remote transmitter. Two flashes of green light-the transmitter has been learned by the controller successfully. System get back to standby state in 3S
Delete method: Press the learn button for 5S,green light flashing
Power should be cut in case of switching the output function (L-type or M-type), otherwise the receiver maintains the previous state
Package:
1 x Wireless Receiver
2 x Transmitter
1 x Connect Cable
More latest product information of HOBK, please follow our official Twitter Account: @HOBK89016273.