125KHz RFID EM ID Card Metal Stand-Alone Access Control Keypad
Features:
The Access Control Keypad uses the latest microprocessor technology to operate door strikes and security systems that require a momentary (timed) or latching dry contact closure.

All programming is done through the keypad. Codes and operating parameters are stored within the microprocessor and can not be lost due to power failure.

The Access Control Keypad can store 1000 prox cards and user 4 digit password codes. Each 4 digit password code has 10,000 possible combinations. The unit has one relay output with 5 Amp changeover contacts.

Model: Sebury BC-2000

Metal shell, anti-explosion; Non-Waterproof

Support 125KHz EM card (Can't support HID, Cobra, APCiK etc)

Low power consumption (Standby input current: <20mA)

3 access modes: Card, Card or PIN, Card with PIN

Relay output load can be 3A max

Antistatic interference: 12KV

Operating temperature: 0℃~60℃ (32℉~140℉)

Note: Non-waterproof. Not support Wiegand 26 output, so can't connection as an external reader
Specifications: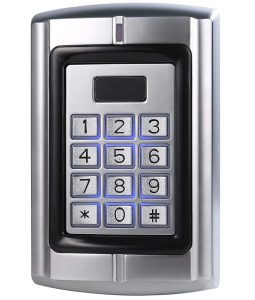 Input Voltage:12VDC

Door relay: 5Am 12VDC

Tamper protection: Negative loop, normally closed

Codes: 1 Master, 1000 cards and 1000 codes

Alarm output load: 150mA pull current

Keypad: 12 keys, 3 LED status indicators

Standby Input Current: Less than 20mA

Card Type: RFID compatible card

Frequency: 125Khz

Read range: 50-80mm / 2-3.1in

Wiring connections: Electric lock / remote request to exit / door open detection / external alarm

Memory: Non volatile eeprom memory

Keypad housing: Metal

Dimension: 128x82x28mm / 5.04×3.23×1.1in

Net weight: 500g / 1.1lb
Package:
1 x Metal Keypad

1 x English User Manual

1 x Flat head screw

4 x Wall fixing plugs

4 x Sell tapping screws

1 x Diode (1N4004)
More latest product information of HOBK, please follow our official Twitter Account: @HOBK89016273.