12V Sturdiness Electric Bolt Lock Fail Safe for Narrow Door
Features:
Low Temperature, safe & Durable

Autolock Time Delay: 0,3,6,9sec

Door statue signal output contact (NO/COM)

Superior Strength Aluminium Alloy,Solid Stainless Steel Bolt

Suitable for narrow frame doors which is possess with Double protection for loading current. The bolt is made of 304 stainless steel solid bar with 1000kg holding force and anti-burglar design. It contains the design of magnetic valve, particular photoelectric control structure


NC mode – (locked while supplied with power), fail safe mode
Installation: Unfold install (surface mounted)

Suitable For: Wooden door, Glass door, Metal door, Fireproof door, etc

Surface scrub treatment, durable and wear-resistant

Lock body use hexagon screw, fixed panel, anti-theft and more security

Coil type: Continuous working

Locking mode: Magnetic induction
Auto-relock if no Action within 5 secs
Specifications: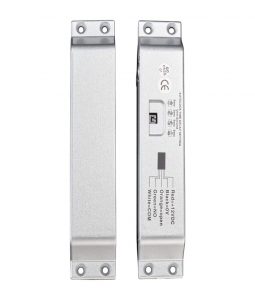 Dimensions: 185x37x25.7mm

Bolt: 16(length)*12.7(diameter)(mm)

Working Voltage: 12VDC

Start Current: 960mA
Standby Current: 180mA
Time Delay: 0/3/6/9sec

Solid Bolt: Polishing housing, 1000Kg Holding Force

Signal Output: Door status Output,NO/COM
Surface Temp: Low Temperature
Induction Distance: 8mm
LED: Light on indicates locked, light off indicates unlocked
Special Designed: Tested to 500000 operations
Face place material: Stainless Steel
Package:

1 x Electri bolt lock

1 x Bag of installation kit

1 x Manual (English)
More latest product information of HOBK, please follow our official Twitter Account: @HOBK89016273.