433MHz 1-Channel RF Wireless Remote Control Switch & Receiver
Features:
MORE FLEXIBILITY: This system adopts non-directional wireless encoding technology, allowing independent control without mutual interference, and can be flexibly configured in quantity and in operating modes.
WIDELY APPLICATION: Be used in industrial control and security fields, such as light, motor, remote controller, wireless security alarm, wireless door alarm, wireless controller, etc.
EXCELLENT PERFORMANCE: The power relay with 10A switching capacity provides an excellent switching performance.
Convenient to operate and easy to use
This remote uses high performance MCU to ensure stable performance, and low-power circuit makes the service life longer
Stable performance and low-power consumption, long service life
The wireless signal can pass through walls, floors and doors
Applied for garage door, roller shutter door or windows, remote control door lock, etc.
Specifications:
Receiver: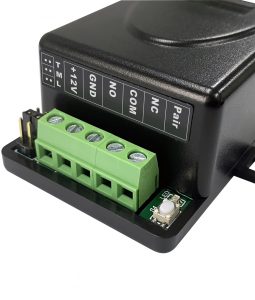 Operating Voltage: 12VDC
Receiving Range: 164ft (Open space)
Operating Mode: Momentary/Toggle/Latched
RF Frequency: 433.92MHz
DC Encoding Type: Learning code
RF Channel: One
Transmitter can be paired: 40
Output Terminals: NO/NC/COM
Connectors: 5 screw Terminal
Case Construction: ABS Plastic
Transmitter: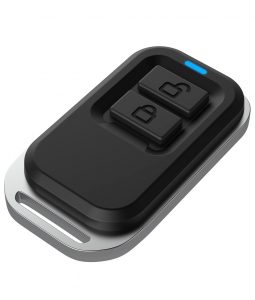 Powered by: 2pcs CR2016/3V batteries (Included)
Operating Current: 8mA
Service Life of the Battery: 50000 cycles tested
Transmitting Frequency: 433.92MHz (Only compatible with the RF remote controls of UHPPOTE)
Buttons: 2
Emission Distance: 20-50m / 65-160ft (Open area)
Dimension (LxWxH): approx. 58x33x12mm / 2-9/32″ x 1-19/64″ x 15/32″
Encoding Type: Fixed code
Color: Black
Case Material: ABS Plastic
Operating Setting:
Operating Mode:
Momentary: Press and hold A for ON, release A for OFF

Toggle: Press A for ON, press A again for OFF

Latched: Press A for ON, press B for OFF
Clear Code:
Press the pair button for 8 seconds until the green light turns off, indicating the unpairing is successful.
Pairing Transmitter and Receiver:
Press the pair button once, the LED light flashes green, then press the button on the transmitter, the LED light flashes green three times to indicate the pairing is successful.
Package:
1 x Receiver

1 x Transmitter

1 x English Manual
More latest product information of HOBK, please follow our official Twitter Account: @HOBK89016273.