Electric magnetic Lock 600lb Holding Force Fail Safe with LED Sensor for Double Door
Features:
NC mode – (locked while supplied with power), fail safe mode

Complete mounting hardware for typical installations

Dual Voltage 12 or 24 VDC (Optional)

Built-in dual-colored status LED and bond sensor to show locking status of each door
Specifications:
The Standard Voltage is 12VDC when Finished

LED Indicates the door Status

MOV Provides Reverse Current Protection

Anti-Residual Magnetism Designed

High Strength Material,Anodized Aluminum Housing

Design without Mechanical Failure

Increase the holding Force, Dual Insulative Housing

Size: 500Lx48.5Wx25H(mm) / 19-11/16Lx1-29/32Wx63/64H(in)

Armature Plate Dimension: 180Lx38Wx11H(mm) / 7-3/32Lx1-1/2Wx7/16H(in)

Holding Force: 280kgx2 / 600Lbsx2

Input Voltage: 12 or 24VDC

Current Draw: 12V/500mAx2 or 24V/250mAx2

Suitable: Wooden door, Glass door, Metal door, Fireproof door

Surface Temp: Less thand +20℃ / 68℉

Operating Temp: -10℃~+55℃(14℉~131℉)

Humidity: 0~90%(non-condensing)

Cover Finish: Anodized aluminum

Lock Finish: Zinc

Armature Plate Finish: Zinc

LED: Red shows locked ;Green shows unlocked

Signal Output: Lock signal(NO/NC/COM)

Weight: 4.2KG / 9.26lb
Warm Tip: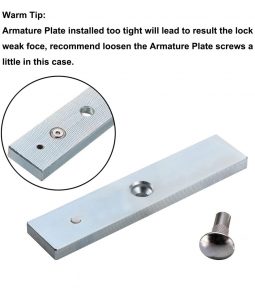 Armature Plate installed too tight will lead to result the lock weak foce, recommend loosen the Armature Plate screws a little in this case.

The screw of armature plate should not be fixed too tight. Proper elasticity should be guraranteed for the rubber ring so that the armature plate can adjust itself to the appropriate position.

Please keep the surface of the lock clean, or the force will be reduced because of the dust, glue or scotch tape on it.
Package:
1 x Electric Magnetic Lock

1 x User Manual

1 x Installation Kit
More latest product information of HOBK, please follow our official Twitter Account: @HOBK89016273.