Electric Magnetic Lock Single Door 280KG 600lbs Holding Force Built-in Buzzer
Features:
Collinear Load Test 280kg,600pounds
Dual Voltage 12 or 24 VDC (optional).
The Standard Voltage is 12VDC when Finished.
MOV Provides Reverse Current Protection.
Anti-Residual Magnetism Designed.
High Strength Material,Anodized Aluminum Housing.
Design without Mechanical Failure.
Increase the holding Force,Dual Insulative Housing.
CE Certificate by European Union,MA Certificate by China Public Security Office.

NC mode – (locked while supplied with power), fail safe mode

When set up 0-20 as door close time, if the door doesn't close after 20 seconds,it will alarm till the door close.

Single door electric lock with buzzer and suitable for wooden door,metal door, glass door and fireproof door

LED Indicates the Door Status: Red indicates the door is unlock;Green indicates the door is lock
Specifications: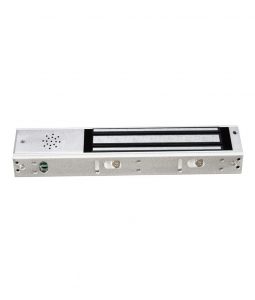 Size(LxWxH): 270×48.8×26.4mm / 10.63×1.82×1.04in
Armature Plate Dimension(LxWxH): 180×38.8x13mm / 7.09×1.53×0.51in
Holding Force: 280kg(600Lbs)
Input Voltage: 12 or 24VDC
Current: 12V/540mA or 24V/270mA
Suitable: Wooden door , Glass door ,Metal door , Fireproof door
Signal Output: Lock signal NO/NC/COM
Buzzer: 0-20sec.adjustable
LED: Green shows locked ;Red shows unlocked
Cover Finish: Anodized aluminum
Weight: 2.1KG / 4.63lbs
Cautions:
A.Please don't fix the screw(screw of armature plate) tightly, let the rubber ring maintain proper elasticity.

B.Please check the jumper position, to know voltage is 12VDC or 24VDC

C.Please keep the surface of the lock clean, or force will be reduced because of dust, glue or scotch tape on it.
Package:
1 x Electric Magnetic Lock
More latest product information of HOBK, please follow our official Twitter Account: @HOBK89016273.