European Type Electromagnetic Door Holder 110lb Holding Force with Release Button – Floor Mount
Features:
This is a Floor Mount Door Holder. Its outlook is professional. with fireproof plastic cover, low power consumption type. It is more environment friendly and more durable. It can release the fire door automatically in case of fire. It contains build-out release button for testing, build-in MOV reverse for current protection.

Col linear Load Test 50kg / 110pounds
Dual Voltage 12/24 VDC (Adjustable)
The Standard Voltage is 24VDC when Finished
Emergency Release Button/Test Button
Wall mounting direction
Reliable Fail-Safe mechanism
MOV Provides Reverse Current Protection
Low Power,Environmental Protection
Anti-Residual Magnetism Design
Professional Design, Dual Insulate Housing
Automatically close the smoke proof door when fire happens
CE Certificate
Specifications: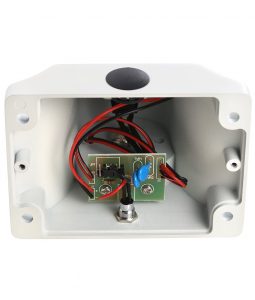 Dimensions: L110xW80xH93(mm) / L4.33xW3.15xH3.66(in)
Holding Force: 50kg / 110Lbs
Voltage: 12/24VDC+/- 10%(Adjustable)
Current Draw: 12V/140mA 24V/70mA Suitable for: All kinds of Single & Double Smokeproof Door
Surface Temp: less than +20℃ / 68℉
Operating Temp: -10℃~+55℃(14℉~131℉)
Suitable Humidity: 0~90%(relative humidity)
Finishes for Shell: The Hand Moves and Closes the Door to Release the Button
Finishes for Armature: Zinc
Weight: 1.1kg / 2.43lb
Remarks:
The default setting is 24VDC
If user want to connect with 12VDC,operating as bellow:
1 Pull those two jumpers out. It is showed 4 pins here
2 To set up 12VDC, insert one jumper on the position of 1 and 2, second jumper on the position of 3 and 4
Packages:
More latest product information of HOBK, please follow our official Twitter Account: @HOBK89016273.