Intelligent DC12V Electric Bolt Lock Fail Safe NC Mode with Adjustable Ball 2000kg / 4409lb Holding Force
Features:
To prevent the damage of the lock caused by the improper locking position.

To align the position of the magnetic plate and the bolt in a short time, which can reduce the relock time of the electric bolt

Fail Safe: Unlocked when power is removed, with all-metal construction.with 304 stainless steel solid bolt and 4409lb holding for

It can operate at the temperature of 60 ℃(140℉) or -40℃(-40℉) below zero based on the all-metal linkage parts.

With the diversified design of durable magnetic valve, special photoelectric control system, ultra-low temperature and power consumption design, anti-intrusion and smart circuit.

Low Temperature, safe & Durable.
Low Power, Environmental Protection.
Special photoelectricity control,three steps current application.
Long Life with 500000 Operations.
MOV Provides Reverse Current Protection.
Superior Strength Aluminium Alloy,Solid Stainless Steel Bolt.
Autolock Time Delay: 0,3,6,9sec.
Lock signal:NO/NC/COM;Door signal:NO/COM.
Double protection for loading current.
Auto-relock if no Action within 5 secs.
Certificate:CE&MA.
Photoelectricity Control,Low Temperature,
A:The Low Current is Changed immediately;
B:When door frame doesn`t coincide with door leaf ,door leaf against the bolt,then the electric bolt will start the low-power function to bring low temperature.
C:The Photoelectricity Control Technology,prevent the machanical defect.
Specifications: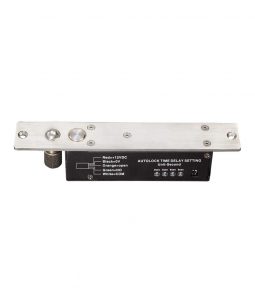 Feature: Fail Safe-Unlocked when power is removed
Lock Body(LxWxH): 220x34x38mm / 8.66×1.34×1.5in
Magnetic Plate(LxWxH): 105x25x3mm / 4.13×0.98×0.12in
Bolt: 16(length) * 16(diameter)(mm) / 0.63(Length) * 0.63(diameter)(inch)
Voltage: 12VDC±1 0 %
Start Current: 1200mA
Standby Current: 200mA
Signal Output: Door signal: NO/COM
Suitable For: Wooden door, metal door, fireproof door, glass door
Detection Distance: Within 8mm(0.31in)
Material: 304 stainlesssteel , wiredrawfinishing
Weight 1.0kg
Package:
1 x Electric Bolt Lock (Fail Safe NC Mode)
More latest product information of HOBK, please follow our official Twitter Account: @HOBK89016273.