Wired 12/24VDC Sound and Light Fire Alarm Warning Strobe Siren Horn Sound Alert Safety System Sensor
Features:
Warm Tips: Non UL listed; The strobe light flashes red.

Three different tones, you can choose any one of them according to your need.

Super loud sound, the alarm volume over or equal to 105dB

Built-in 6pcs LEDs, super bright when send out alarm signal,effectively remind people flee from fire

The Sound-light Fire Alarm apparatus are one kind terminal device for alarm, it is fit for the sound & light alarm when the fire happens.

The siren will send out both loud sound and quick flash light to remind people escape from the fire.

Selects two wire system wiring method, the main line end receives two main lines, power source termination to 12/24VDC power line.
Specifications: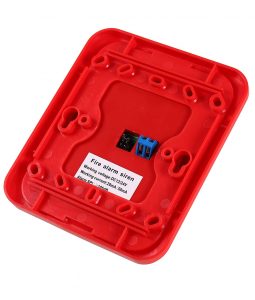 Temperature Range: -10℃~50℃ / 14℉~122℉

Humidity Range: ≤95%RH,

Operating Voltage: 12/24VDC

Working Current: 20mA / 50mA

Flash Intensity: ≥1.2Ws,

Flash Period: ≤1.5S

Audio Alarm: ≥105Db

Life of Flash Light: ≥40000 (Time)

Dimensions: 134(L)x115(W)x48(H)mm / 5.3(L)x4.5(W)x1.9(H)in

Package weight: 250g / 0.55lb

Non UL listed

Material: ABS

Provenience of Sound Alarm: Three kinds ( I Ambulance sound; II Sound of police car; III Sound of fire engine)
Installation:
I. At first, get into two hole well in the install place(wall), the hole distance is 65mm / 2.56in, installs the plastics and swells Stopper, (if the wall is the wooden material, can be by attacking the screw and fastening by oneself directly).

II. Connect 12/24VDC power and network link, and set up a kind of alarm sound well according to the need.

III. Specialize in screw by oneself with two, fix the alarm to install in the place, tighten the screw alarm.
Attention:
Alarm host is not included, and you need to buy it separately.

The strobe light flashes red.

Non UL listed
Package:
1 × Sound-light fire alarm

2 x Screws
More latest product information of HOBK, please follow our official Twitter Account: @HOBK89016273.