Access Control Inswinging Door 600Lbs Electromagnetic Lock Kit with Bracket Remote Control
Describe:
The main feature of this kit is that it allows you to open the door simply by pressing the wireless RF remote instead of moving to the door physically when someone visits. The remote communicates with the receiver, which can program up to 40 remotes, and it has a range of 164 feet.

The function of the receiver is that when the power is on, the mag lock of your kit is locked and when you press the remote the mag lock will unlock temporarily to open the door.

0/5/10 seconds locking delay time adjustable, default is 5 seconds.

An exit button is included in this magnetic lock system kit, and you could exit from indoors easily by pushing it once.

The magnetic lock with 600lbs holding force for single door, like wooden door, fireproof door, sliding door and metal door. It is also with LED indicator allows you to identify the status of the lock. The magnetic lock is locked when the LED light is red and it is unlocked when the LED light is green.

There are two main features on the remote that will allow you to operate it in two different ways. The default function of the remote is momentary that when the power is on, the lock is locked and when you press the button on transmitter the lock will unlocked temporarily to open the door. The other function is toggle that the remote has is the ON/OFF feature. This feature is very similar to a light switch; when you press the transmitter once and the door will unlock and remain unlocked until you press the transmitter again. When you press the remote again, the door will then locked.
Remote Control Receiver: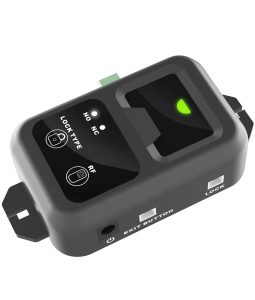 Voltage: 12VDC

Frequency: 433MHz

RF channels: One

No. of Remotes that are able to connect to one Receiver: Up to 40

DC Encoding Type: Learning code

Working Range: 160ft in open aera, 15%-30% in reality

Adjustable Locking Delay: 0/5/10sec

Working Mode: Momentary/Toggle
Remote Transmitter: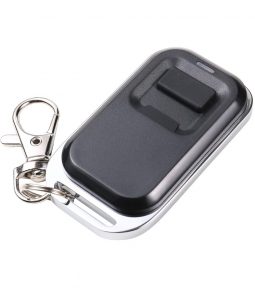 Working voltage: 6VDC (Built-in button battery)

Operating Current: 8mA

Powerd by: 2pcs CR2016/3V batteries (Included)

Service Life of the Battery: 50000 cycles tested

Transmitting Frequency: 433MHZ

Key: 1 Key

Case material: Plastic
Electric Magnetic Lock: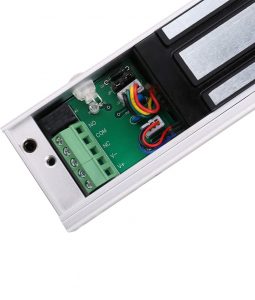 Collinear Load Test 280kg / 600pounds

Output Contact: NO/NC/COM

LED: Red shows locked; Green shows unlocked

Input Voltage: 12VDC

Current: 520mA

Holding: 280kg/600Lbs

Fail Safe mode: Unlocked while power is removed

Lock Size: 250×48.8×27.9(mm) / 9.84×1.92×1.10(inch)

Armature Plate Dimension: 180×38.8×13(mm) / 7.09×1.53×0.51(inch)
Z & L Bracket: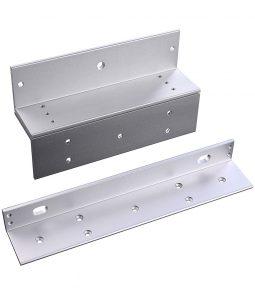 This is a Z & L magnetic lock special stent for access control system

Special aluminum, firm and durable

Special design, suitable with wooden door and metal door

The best choice of access control

It is easy to install and convenient to use

Opening Mode: 90 degree door
Push to Exit Button: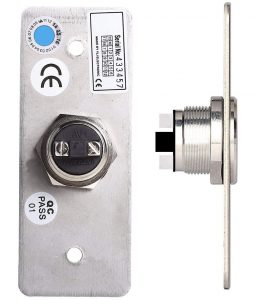 Dimensions: 90Lx35Wx26.5H(mm) / 3.54Lx1.38Wx1.04H(inch)

Standard Structure: Stainless steel Panel, Steel Button

Mechanical Life: 500000 tested

Current Rating: 3A@36VDC Max

Output Contact: NO/COM

Operating Temp: 10~+55℃(14-131F)

Operating Humidity: 0-95% (relative humidity)

Panel Material: Stainless steel Panel, Wire Drawing Finished

Suitable for hollow door
Power Adapter: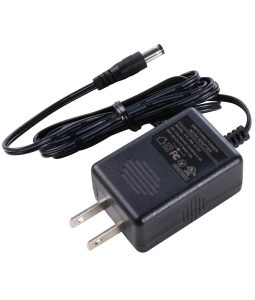 Type: 12V 1A Power Supply Wall Charger

Input: AC100V-240V 50/60Hz

Max Output: DC12V / 1A (1000mA)

AC Cord length: 4 feet / 1.2 meter

Wire Type: 22AWG

Output transformer adapter : 5.5X2.1mm (Inside diameter 2.1mm, Outside diameter 5.5mm)

Net weight: 66g / 2.3oz

Certificate: FCC
Package:
1 x Electric Magnetic Lock

1 x Bracket

1 x Remote Receiver

2 x Remote Transmitters

1 x Push to Exit Button

1 x Power Adapter

1 x English Manual