500Kg 1200Lbs Force Waterproof Electric Magnetic Lock Fail Safe for Single Door Access Control
Features:
This single door electric lock with waterproof function, the case is stainless steel and it is 100% waterproof treatment.All the accessories are sealed inside the lock cylinder. Specially for metal door, heavy door and so on.
Collinear Load Test 500Kg / 1200lb
Dual Voltage 12 or 24 VDC (optional)
The Standard Voltage is 12VDC when Finished
MOV Provides Reverse Current Protection
Suitable For Wooden Door,Glass Door,Metal Door,Fireproof Door
The Shell Finished with Stainless Steel,more Strong and Durable
100 percent waterproof,All the Parts Pressurize in resin
Special Waterproof,Indoor and Outdoor can be installed
Design without Mechanical Failure, Depending on the powerful Magnetic force
Increase the holding Force, Dual Insulative Housing
CE Certificate by European Union,MA Certificate by China Public Security Office

Reach IP-68 waterproof Grade .The case is 100% waterproof treatment., which made of stainless steel material
Specifications: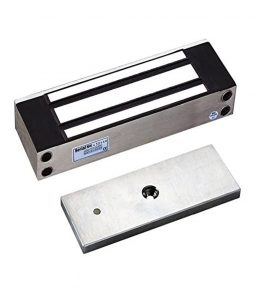 NC mode – (locked while supplied with power),fail safe mode
Lock Size: 220Lx63Wx36H(mm) / 8.66Lx2.48Wx1.42H(in)
Armature plate: 185Lx60Wx13H(mm) / 7.28Lx2.36Wx0.51H(in0
Holding Force: 500kg / 1200Lb
Voltage: 12 or 24VDC
Current Draw: 12V/480mA or 24V/240mA
Suitable for: Wooden door, Glass door, Metal door, Fireproof door
Signal Output: Dry Contact, Max Rating of Contact Current 3A
Surface Temp: Less than +20℃ / 68℉
Operating Temp: -10℃~+55℃(14℉~131℉)
Humidity: 0~95%(non-condensing)
Finishes for Shel: Anodized aluminum
Finishes for Magnetic: Zinc
Finishes for Armature: Zinc
Weight: 4.5kg / 9.92lb
Package:
1 x Electric Magnetic Lock
1 x User manual
1 x Installation Kit
More latest product information of HOBK, please follow our official Twitter Account: @HOBK89016273.