NC NO Normally Open Closed Magnetic Door Contact Sensor for Door Window Alarm – DC5V DC12V DC24V Light – 10Sets
Features:
Contact Type: NC/NO/COM; Trigger Range: 20-30mm.

Idea for alarm, Door, Window, LED, Relay, GPS low voltage devices, etc. Effective for Theft Deterrence.

This switch contains normally closed and normally open contacts, great for use in window, door, etc. Help deter theft with this magnetic switch which is with a sliding window.

Designed for use with alarm systems.

Working Voltage: 0-28V; Rated Power: 10W; Contact Capacity: 0.3A (Maximum Switch Current)
Specifications: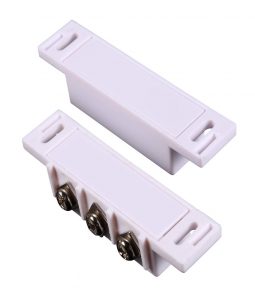 The switch is an electrical switch operated by an applied magnetic field.
Designed for use with alarm systems.
Great for use in family and factory wooden window, door. etc.
Screw Mounted for easily install
Housing Material: ABS PA-757
Size: 55×11.5×12.5mm / 2-11/64″ x 29/64″ x 31/64″
Net Weight: 18g / 0.6oz (1 pair)
Contact Type: NO/NC/COM
Max. Curent: 0.3A
Max. Voltage: 28V
Max. Power: 10W
Package:
More latest product information of HOBK, please follow our official Twitter Account: @HOBK89016273.