Stainless Steel Panel Five-Range LCD Key Selector Switch for Access Auto-Door
Features:
This product is unidirectional command switch for automatic door accessory using. Manually issue automatic/exit/lock/open/partial instructions to switch functions.
Displaying corresponding instruction visually on different occasion.
With TFT true color liquid display, special design with bottom panel, convenient for different installation.
Adopt wide voltage to connect different power supply with outdoor controllers.
Specifications: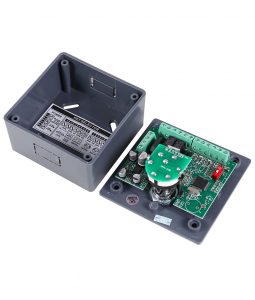 LCD Language: Chinese / English
Input Power: AC/DC 18V-36V
Mechanical working time: over 75000 times
Function: 5 ranges
Display Screen: TFT 34x25mm
Dimension: 92(L)x92(W)x46(H) mm / 3.6(L)x3.6(W)x1.8(H) inch
Hole Dimension: 85(L)x85(W)x43(H) mm / 3.3(L)x3.3(W)x1.7(H) inch
Package weight: 290g / 0.64lb
Functions:
AUTO: Internal and external probe are effective.Working hours with normal business
EXIT: External probe is lose effectiveness and electric lock locked,automatically while external access controller and internal probe are available. Only insider can get in by swiping card. Internal probe is effective,people can get out. Be used for clearing up a gathering place.
Partial: External and internal probes are effective. Door maintains half-open and shut back. Working hours with normal business.
LOCK: All probe and access controller are lose effectiveness,electric lock locked automatically. People inside and outside can not enter in. Be used for preventing thieves at night or on holidays periods.
OPEN: All probe and access controller are lose effectiveness. Door keeps fully open. For emergency using.
Package:
1 x LCD Key Switch
2 x Keys
More latest product information of HOBK, please follow our official Twitter Account: @HOBK89016273.