WiFi RF Single Channel Remote Control Smart Switch Receiver with Transmitter High Power 30A
Features:
Smart scenes, control share, delay timing, group management, status feedback are available.

Adopts newest electric board and US LNK304PN power supply management chip, great heat dispersion, low consumption, more stable operation, lasting long.

Wireless encoding technology used ,no direction, high receiving sensitivity, the switches do not interfere with each other.

Adopts microprocessor intelligent control, widely used in remote control modification of household appliances, industrial controller, access control system. remote control , garage door wireless , car rear box remote control, various power switch remote control modification.

Small in size, easy to use and install.
Specifications: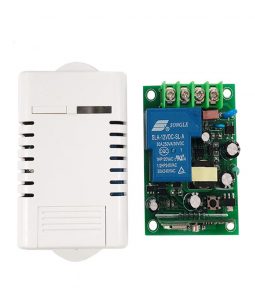 Dimensions: 95mm×55mm×30mm/3.74″×2.17″×1.18″
WiFi: IEEE 802.11 b/g/n; 2.4Ghz
Operation Frequency: 433MHZ
Control Methods: app, remote Control
Operating Voltage: AC85V -250V
Load Power: ≤3000W
Working Mode: manual, jog, self-locking, interlock
Receiver Pair Transmitter:
1: Long Press learning key on receiver about 3 seconds ,the light becomes off .At this time, release your finger. press any key on transmitter to start learning .
2: Wifi set up: Long Press learning key on receiver for 3 seconds ,not release your finger until the learning indicator light become off .Then ,press learning key until the learning indicator become on, entering the eWelink to set up .

Note: The receiver could learn fixed code(PT2262,SC2260 chip etc)/learning code (Ev1527,HS2240etc)for 20 different coding by pressing any key of receiver. if exceeded, the earliest learned one will be cleared in turn.
Package:
1 × Receiver
1 × Transmitter
More latest product information of HOBK, please follow our official Twitter Account: @HOBK89016273.